Protests Spark Over Continued School Mask Mandate
Students, parents, and community members gather to protest school mask mandate.
On the morning of February 15th before classes, a group of approximately 20 students, parents, and community members gathered to protest the continued school mask mandate. It took place on Ridge Road right on the sidewalk of the theatre parking lot. This is the second protest that has taken place on school grounds over the past year.
Protestors stated that their objection was all about mask choice.
A protestor, who asked to be anonymous said, "We want our kids to have the choice whether or not to wear a mask at school."
The California Department of Public Health has decided that California's indoor masking requirement for vaccinated people will be lifted at 12:01 am tonight.
This new mandate ends the requirement for masks in indoor public spaces for vaccinated people but does not include public schools, public transportation, private properties, and private businesses,  according to ABC 7. Com.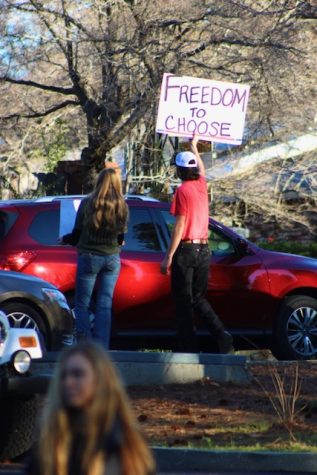 Protestors declare that "We want the board to stand up and respect our decisions and voices."
What are your thoughts on the Protest and the new mandate? Leave them in the comments below.