Boys Volleyball
Spring is in the air, which unfortunately also means pollen, but with this season—in addition to March Madness—comes boys volleyball. The team had their first game on the 24th of February, and with serves, sets, and spikes have dominated the court since.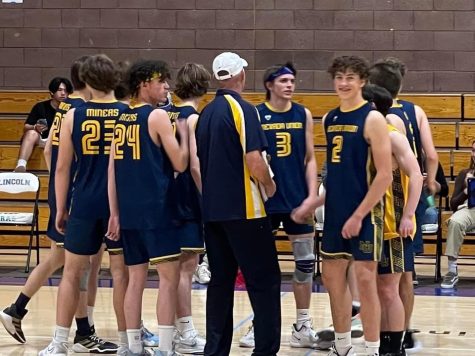 Volleyball's appeal has captivated men and women alike, but one student has been particularly enthralled by the sport.
Bodey Eelkema, #23, is a Sophomore and has been drawn to volleyball for the past two years. "I like just being able to get better at something," he said.
And he certainly has gotten good: having landed himself a spot on the Varsity team, Bodey plays middle hitter, and has largely contributed to the teams wins.
Bodey attended Grass Valley Charter School, and while his middle school also had a boy's volleyball team, he didn't participate in the sport. "I played basketball in middle school," he informed, "and football."
Needless to say, he's had some experience on the court and the field, and now he gets to bring his personal attributes just inches from the net.
But all sports require practice, and though Bodey is on the Varsity team and a dedicated middle hitter, he can certainly harness new skills. Especially when volleyball seems to be an ongoing sport for the 10th grader. "I'm planning on it," he said, when asked if the sport would be a continuous journey for him throughout his high school career.
In addition to high school volleyball, he continued to participate in basketball and football as well here at NU. And while a scholarship isn't in the picture for his volleyball occupation, his other two passions are well in the running to land him one.
Either way, Bodey Eelkema is here to stay, and he'll continue to grow as a player, regardless the sport.
The boys Varsity and JV teams have trained hard and entertained audiences with their great plays. Bodey is just one of the amazing players on the team. But unlike March Madness, the boys volleyball season still has weeks of games ahead of them, so come support them before the season ends.