New Zealand Travel Blog
As I sat around floating through the water on my sea kayak in the warm ocean water off the coast of New Zealand, I couldn't help but think about how, barely a week prior, I had been cramming my way through the cafeteria while it poured rain outside. Over winter break I was fortunate enough to travel halfway across the world to visit New Zealand. I was born there and my parents wanted to make one last trip there before I depart for college.
We left San Francisco to embark on the tiresome 12 hour plane ride. Jet-lagged and tired we arrived in the city of Christchurch on the south island. The following day we made the long drive to the small town of Picton to catch a ferry. The ferry takes a scenic drive through the short stretch of ocean that separates the north and south island. We even saw the elusive dolphins swim beside the ferry at one point. We finally made it to our destination of Wellington and stayed with an old family friend. Wellington is a very vibrant city that seems to go through all four seasons each day. We went to Te Papa, a military museum and jumped off the public diving board outside. After a few days we headed back on the Ferry and proc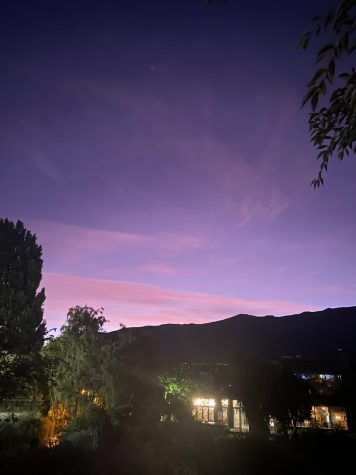 eeded to start our sea kayaking trip.
We would be spending the next three days kayaking up Abel Tasman National Park. The water was warm and turquoise blue. Each day the wind picked up and the waves became increasingly large. However it was all worth it as the farther up we went the more isolated and surreal the scenery became. We saw seals, stingrays, penguins, and even a jellyfish. By the time we got our "water-taxi" back to base we had paddled over 40 miles. It was an amazing experience and allowed for adventure, but also a tranquil time to reflect.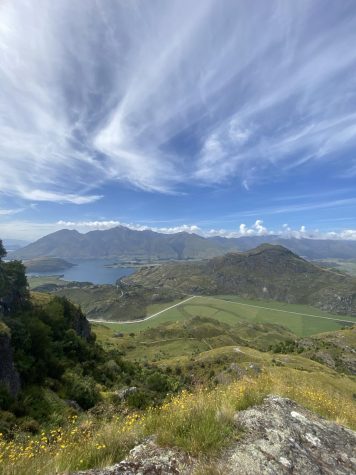 After a few more stops we made it to Dunedin. Dunedin is the second biggest city on the south island and where my parents originally moved to. We went to some of the beaches and rolled down their massive adjacent sand dunes. We spent Christmas there as well. Christmas is still widely celebrated there, but it's less commercialized and more about relaxation. Since my family didn't have any plans we decided to volunteer at the town hall. My brother and I were waiters and helped deliver the different meals out to people, while my parents were hosts and accompanied the guests. It was a really unique experience and much different than Christmas in the US. 
Our final destination was Wanaka, the town I used to live in. My parents had many friends still living there that we were able to see and stay with. Wanaka is a very beautiful place surrounded by Lake Wanaka, which is 75 square miles. The lake is very popular to boat around on. On our last day we drove all around a section called Glendhu Bay exploring the coast. There were large celebrations for New Years and the whole town seemed to come alive downtown. It was an amazing way to cap off our trip. I strongly recommend going to New Zealand if you ever have the chance!