Black Panther: Wakanda Forever Review
Ben Thiem, Social Media Editor
January 6, 2023
Black Panther: Wakanda Forever is yet another action-packed addition to the Marvel Cinematic Universe. It is the sequel to critically acclaimed and commercially successful Black Panther (2018). Director Ryan Coolger had massive shoes to fill after the tragic and surprising death of lead actor, Chadwick Boseman, who played the titular Black Panther and King T'Challa. The whole crew had to change several key components to the film, while still remaining conscientious and honorable. 
The movie follows the nation of Wakanda after the untimely death of King T'Challa and the devastating effects the loss has on his family and country. One year after the King's death, foreign powers start pressuring Wakanda into giving up their precious metal, Vibranium. The political greed for Vibranium kick starts the rest of the movie. 
For the most part, Wakanda Forever lives up to the expectations set by the previous installment. The film handles the passing of Chadwick Boseman with grace and shows the realistic effect grief has on people. Grief is a large theme of this movie and can be seen through emotional character performances and the film's darker style Letitia Wright, who plays Shuri, T'Challa's younger sister, delivers a complete performance. She falls a little short of Chadwick Boseman's grandiose scale and performance, but this could potentially be improved on in future installments.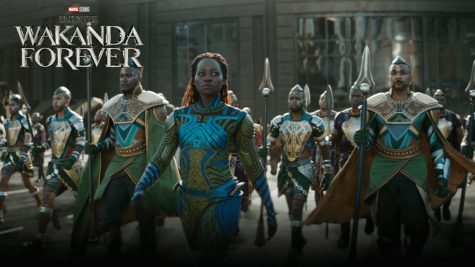 One of the biggest issues critics had 
with the last Black Panther movie was the unrealistic special effects, particularly in many of the fights scenes. Fortunately this movie does a better job, providing captivating and realistic visuals. Much of the movie takes place underwater or with water present. Those scenes are done very well and give some of the best visual shots of the whole movie. 
A major issue in many movies is the presence of boring, forgettable villains. Unfortunately, Wakanda Forever suffers a 
similar trope. Tenoch Huerta, who plays the villain Namore. His presence is threatening and performance is compelling. Unfortunately his outfit suffers from some creative decisions that make him hard to take seriously as a villain. There are a few unnecessary scenes with Namore's backstory that adds to the 
movie's long run time of 2 hours and 41 minutes.  
Arguably the best part of the film is the change in characters from the beginning to the end. Shuri's transformation is particularly noticeable as she starts out timid and scared, but slowly fills into her roles and becomes a powerful new addition to the Marvel Universe. The themes of bouncing back from grief are shown very well and demonstrated by the characters on multiple occasions. 
Wakanda Forever is an entertaining movie and provides a fitting closure to Chadwick Boseman and his character. There are several flaws that hold the film back from its full potential, but still remains enjoyable to watch. Overall 7.5/10.